Fountains at Forestwood apartments is pleased to support many local organizations in and around Fort Myers, FL.
Our apartment homes are proudly zoned in the Lee County Public School district, and we thank the teachers and staff who dedicate their careers to serve in our public schools.
As a thank you for their service, we're thrilled to offer all of our community's service personnel our
'Hometown Heroes'
discount on our apartments for rent. The 'Hometown Heroes' Program includes:
teachers, police, firefighters, medical staff including EMTs, doctors, and nurses, Lee County and government agency workers.
Call us at
(239) 232-3487
to inquire about this discount.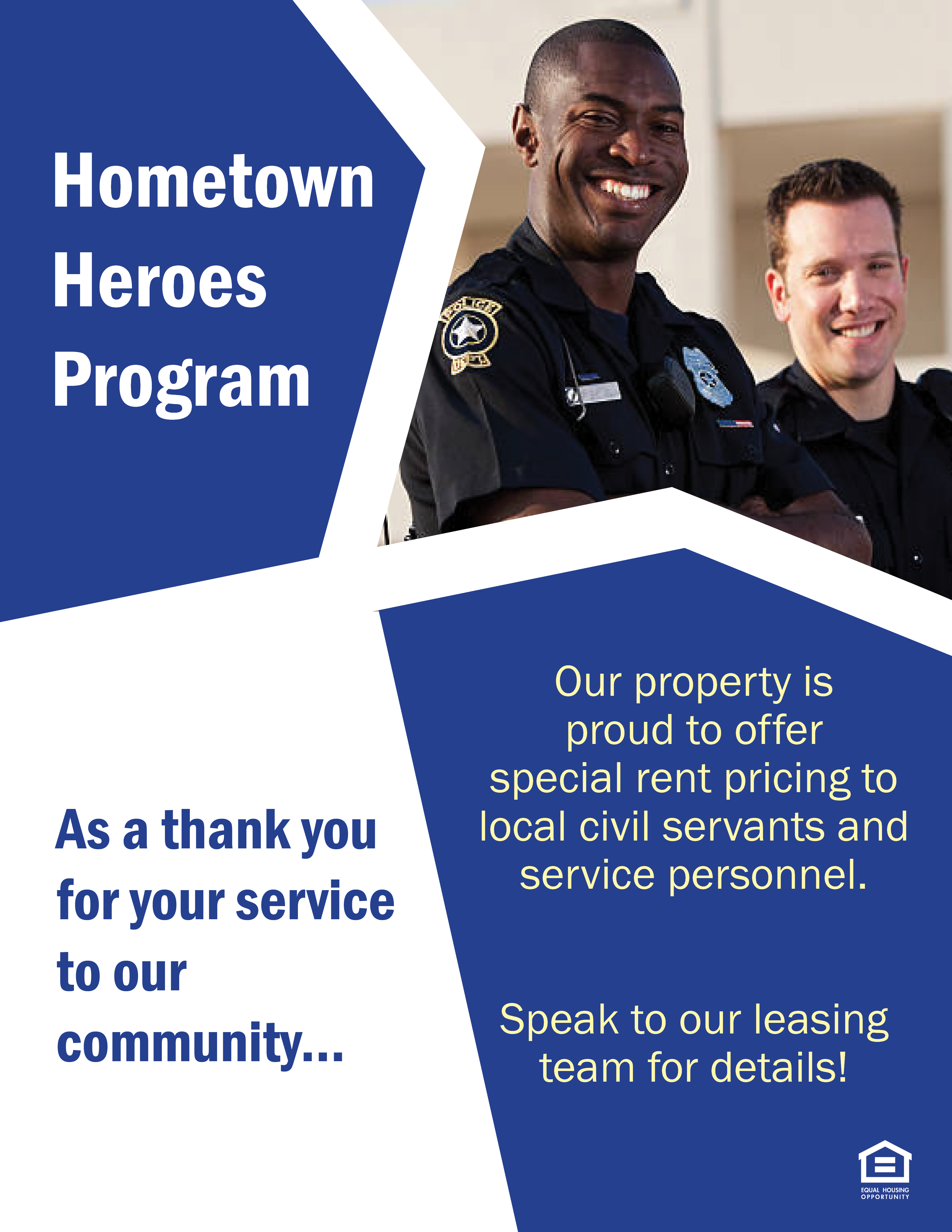 We also offer Preferred Employer discounts at the Fountains at Forestwood apartments to residents who work at: Lee Health, Gartner, Hertz, and Chicos. No matter where you work, we know how important your morning and afternoon commute is, so we're glad our apartment community is situated near I-75 and the Southwest Florida International Airport.
We love our community here in Fort Myers and are proud to partner with these local organizations. For more information about available apartments to rent at the Fountains at Forestwood, call
(239) 232-3487
or email
[email protected]
.
Testimonials
Every time I go into the office with any question, it's always thoroughly answered... If there's ever an issue (even after hours) maintenance is always so helpful and nice! I never had an issue where I didn't feel safe. I've lived here a year and plan to stay for another!

- J.J
I love the Fountains! They have added more equipment to the gym! These apartments are completely remodeled with hard surface flooring, granite counters and stainless steel appliances. They are spacious and inviting. I absolutely love that all dogs/pets are welcome. Yes there is a pet fee, but it is very minimal. I have yet to meet an unfriendly dog, and believe me, I go up to every single one of them! The people are friendly and so much fun. This is by far the best community in Fort Myers!

- Patty D.
What a wonderful place. Took a look at one of the properties and I was blown away by the attention to detail. It was very modern and appeared to be well kept... I am a licensed home inspector and see numerous residences on a daily basis, so I can be rather picky to say the least. However, it was not only the appearance of the residences that I saw that caught my eye, but also the staff. I wish I could give more stars but I hope this review will suffice.

- Zander T.